Akira Shimizu

This is one of his best-recognized artworks, and awarded the 1st. prize at the 7th Shell Art Exhibition (Tokyo) in 1963.

This artwork series ƒColor Blindness Test Chart" is exhibited in many important exhibitions including gBeginning to Diversification - 1960fsh (10/22 - 12/18/1983 at Tokyo Metropolitan Museum) and gSummer of Love, Art of the Psychedelic Erah (5/27 - 9/25/2005 TATE, U.K.) ,(11/2/2005 - 2/12/2006 SCHIRN KUNSTHALLE FRANKFURT, GERMANY), (5/5 - 9/3/2006 KUNST HALLE WIEN, AUSTRIA).

Color blindness test chart is drawn literally with vivid color in this work. There is original Shimizu's aspect here although it also shows the influence of the pop art of tailoring a daily object as a painting.

Collages are used in the circles that composed of this artwork, and we can see various spectacles in each window. The interesting thing in this work is that the screen composed by the circles and dots can be seen as one section, as well as each circle shows different scene and drama. Made as a series in different numbers, each piece of work could be seen as a section that is sliced one by one at different part of a manfs life.
---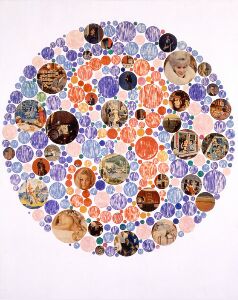 Color Blindness Test Chart No.3
1963
Oil Paints, Collage, Canvas
167.3(H) x 134.0(W) (cm)


---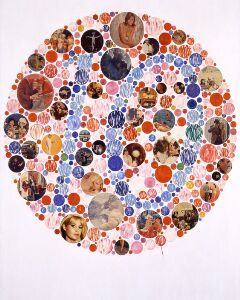 Color Blindness Test Chart No.10
1963
Oil Paints, Collage, Canvas
167.3(H) x 134.0(W) (cm)


---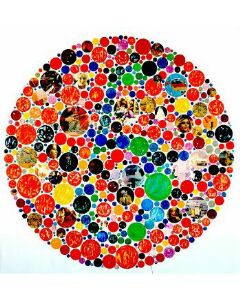 Color Blindness Test Chart No. 5
1963
Oil Paints, Collage Canvas
167.3(H) x 134.0(W) (cm)


---

© 2010 Akira Shimizu. All rights reserved